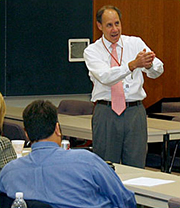 Corporate Energy founder, John Horton, is a gifted motivational speaker and facilitator who provides performance consulting, corporate training, and education to the marketplace. His trademark and brand is ENERGY! Whether it is a thirty-minute keynote speech or a three-day workshop, John connects with his audience and stays connected.
John's passion is facilitating and assisting others to discover their potential and purpose - this is why he does what he does. With over thirty-five years of corporate experience, he is embedded with manufacturing, marketing and sales excellence.
John's greatest gift is how he facilitates through involvement, involvement, and involvement! Sessions come to life and skills are learned and internalized for lasting effective change.
Enthusiasm is contagious, and when used with knowledge, connections and skills, results are readily achieved!